We are here for you
For many reasons cremation is becoming an increasingly popular choice.  Here at Canadian Urns we take pride in creating beautiful, individually constructed handmade wooden urns that can be used for burial or permanent display in your home, church or columbarium.
At this most difficult time we make it easier to choose a unique and personalized last resting place to honour your loved one throughout eternity. These one-of-a-kind meticulously detailed urns are built with your choice of Walnut, Cherry or Sapele case with Maple inscription plate.  Each urn starts off in common with others but then takes on a life of its own as you choose the uniqueness of the carving on the plate. Using a state-of- the art CNC router we are able to carve almost anything you request right into the wood. 
Everything from dates and phrases to graphic images turn a box suddenly into a personalized commemoration to your loved one. 
We look forward to working with you and your family. 
Darlene and Bruce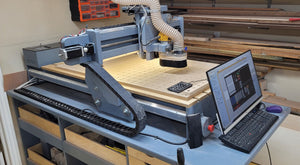 Add Your Customization Inscription
Our state-of-the-art CNC router can carve fine details into the maple inscription piece on your loved ones urn. Name, birth date, death date, image, favourite quote or bible verse.
The options are endless. We will work with you to ensure you and your family feels the urn is a reflection of your loved one. 
Read more